Below, you will find the answers to the questions we get asked the most regarding our mobile CT/MRI scanning service. 
If you can't find the answer you are looking for, please give our team a call on 0845 3714 012 or email enquiries@burgessdiagnostics.com.
Our Mobile Imaging Service
Our Mobile CT & MRI Scanners
What type of imaging scanners does Burgess Diagnostics operate?
We continually invest in our mobile imaging fleet which consists of a range of GE & Siemens CT scanners and Philips & Siemens MRI scanners.

How much space will be required for the mobile scanner at our site?
In order to accommodate our scanner at your site please refer to the details given below.
Support Area: This area will hold the main weight of the unit. A full pad area measuring 2.54m wide x13.68m long must be available.
Service Area: An area of 6.40m wide x 16.50m long is recommended to provide full-service access to the unit. Please note that the side expansions on the trailer will vary from 0.5 m to 1m wide.
The area in which our mobile scanner is to be sited should always be clear for access so that the unit can be positioned correctly. The surrounding area must be a sound surface to provide good access to the trailer (areas that have items such as grid covers will be visually checked by a member of our logistics team and they will advise of the weight of our units).
For further information on site requirements please see our Client Guide .

How are the Burgess mobile scanners powered?
All Burgess mobile scanners require a power source to be available on-site. The most effective way for us to be able to connect is via a power box, please see the necessary power box requirements below.
Power Box Requirements: The power box needs to contain a 3-phase 5-wire, wye connection with neutral and ground (5-wire 3/N/PE AC 400V). The frequency is 50 Hz +/- 1Hz. Our scanners will have on board a15m, 70mm power cable with a male connector. The power box on site must contain a 250-amp Marechal female connector e.g., IDE Systems shown below: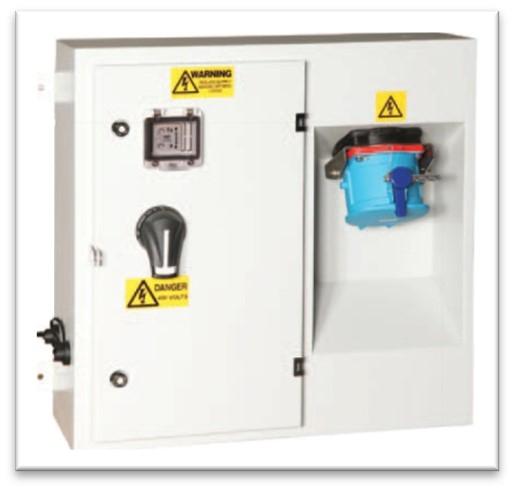 What happens if we do not have a power supply on site?
If a permanent power supply is not available, several of our scanners are fitted with onboard generators. An additional generator charge will then be applicable per hour.
How much space is there on board the mobile unit?
The scanners are contained in trailer-mounted units that are spacious enough to comfortably accommodate our onboard imaging team, your veterinary staff, and of course the patient.